Canada asks for Coronavirus (COVID-19) declaration
March 26, 2020
Canada asks for Coronavirus (COVID-19) entry declaration at all ports of entry
Canada Coronavirus entry declaration. The Canada Border Services Agency (CBSA) said on Twitter that people coming into Canada at ports of entry will be asked to make a declaration. Canada Border Services Agency✔@CanBorder
See also Canada Immigration Coronavirus (COVID-19) Guidelines
#COVID19: Under the new Order for MANDATORY #SelfIsolation that will be fully implemented by #CBSA at ports of entry by midnight tonight, anyone entering Canada by air, land or marine must declare to a CBSA border services officer: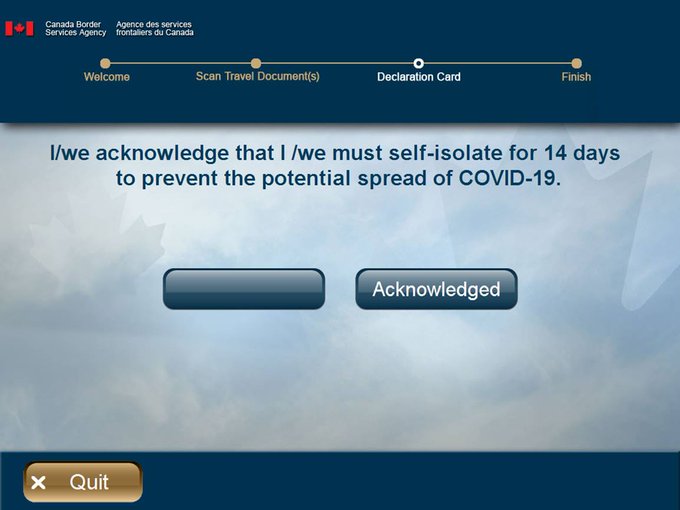 You may pre-qualify for a Canada immigration program.

ADVERTISEMENT


315 people are talking about this
"We are implementing the Quarantine Act to keep all Canadians safe," Prime Minister Justin Trudeau said Thursday, calling decisions by some to ignore the call to self-isolate for two weeks "disappointing" and "dangerous."
When asked why the quarantine measure wasn't introduced sooner, Trudeau said "the vast majority" of Canadians have been following public health guidelines and taking the precautions necessary to protect themselves and others. But, he said, "there have been too many people who have not," which required the use of a rule with enforcement measures.
Watch

ADVERTISEMENT


Trudeau addresses new mandatory self-isolation measures
Prime Minister Justin Trudeau says that while many Canadians have followed instructions to self-isolate, many haven't — so further enforcement measures are needed to protect Canadians from COVID-19. 1:24
Speaking outside his home at Rideau Cottage on Thursday, Trudeau said his government, chief public health officer Dr. Theresa Tam and the country's premiers had all been clear that people needed to follow the call for a 14-day quarantine when entering Canada. But given that some travellers were not self-isolating, tougher measures were needed, he said.

ADVERTISEMENT


Contact information will be collected from incoming travellers when they pass through the border for followup, which could include random checks to ensure they are complying with the quarantine.
Tam said at a briefing Thursday that any incoming traveller who is sick will be immediately isolated. People who are seriously ill will be sent to hospital and those with less severe symptoms who can safely go directly home are allowed to do so.

ADVERTISEMENT


"A quarantine order is put on them; we of course follow them in collaboration with local public health."
People with symptoms who can't get home will be housed in a location serving as a federal quarantine, Tam said.John Paul Tasker✔@JPTasker · Replying to @JPTasker
Asymptomatic travellers are to go home right away and isolate for 14 days. Tam says there will be random checks to make sure people are following the quarantine order. "That's felt to be the most reasonable approach," she says.John Paul Tasker✔@JPTasker
Tam says some people have already be placed in federal quarantine facilities. "There are very, very few people," she says. A couple at Que. crossing, a truck driver, someone who came through the Vancouver airport.17Twitter Ads info and privacySee John Paul Tasker's other Tweets

ADVERTISEMENT


People who are asymptomatic are allowed to go home with an order to get there "as fast as possible" and stay put.
The government will do random checks on the asymptomatic people, in collaboration with local public health, through measures like phone calls, Tam said. She said the use of the Quarantine Act is a "serious reminder" of the need for self-isolation for returning travellers — and reiterated the possibility of "hefty penalties," including fines and even jail time.
During the same briefing, Tam provided what she called "a snapshot of the severity" of COVID-19 in Canada. She said roughly six per cent of cases require hospitalization, 2.6 per cent are critical and one per cent are fatal.
"The fact that Canada's fatality rate is at one per cent indicates that the health-care system is not currently overwhelmed, but these fatalities could be reduced further by preventing illness in our most vulnerable populations," she said.

ADVERTISEMENT


You may pre-qualify for a Canada immigration program.